The second
#SummerThrowdown
READ-a-thon is over and WE MADE OUR GOAL! As of writing this post, we read 3,056 books over the course of one month! Participants are still updating the
spreadsheet
and it's fun to see how much everyone has read!
I've enjoyed sharing my picture book reads over the past four weeks, so I think I'll keep it going. We're always reading with toddler boy. Maybe something I share will end up one of your new favorites, too! Check out my reading records on
Shelfari
. Here are the last of my
#SummerThrowdown
reading highlights.
The Things I Can Do by Jeff Mack (4 stars out of 5).
It's a book about a book about the things the narrator can do, simple as that. But the level of detail in the collage work Mack employs in order to convince the reader that this meta book was actually handmade by the narrator is quite a treat.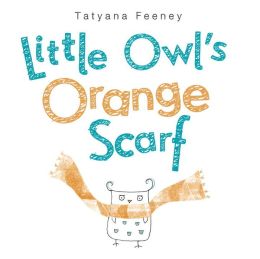 Little Owl's Orange Scarf by Tatyana Feeney (5 stars out of 5).
Little Owl's orange scarf is not so little and Little Owl likes his scarf, well... not so much. Too long. Too orange. And too itchy. The story is all in Little Owl's expressions. There are words, mind you, but the tri-color illustrations do their work wonderfully. Perfect for anyone who has every received a well-intentioned gift from someone they love.
Pancho Rabbit and the Coyote by Duncan Tonatiuh (4 stars out of 5).
Pancho Rabbit journeys with coyote across the border to rescue his father, all the while surrendering various packed foods to coyote for his troubles. I admire Tonatiuh's story for the way in which he retells the migrant journey experience in the form of a fable, never shying from the danger or bravery many migrants must possess.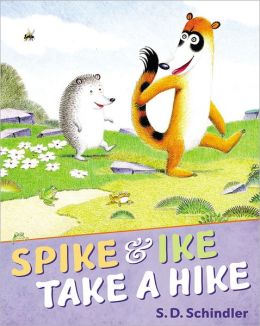 Spike & Ike Take a Hike by S. D. Schindler (4 stars out of 5).
Spike and Ike do indeed take a hike. While they do, they comment on their surroundings in speech bubbles. Meanwhile, expanding and tongue-twister-esque text reflects each new situation, my favorite being the
soggy froggy buggy bog
.
Count the Monkeys by Mac Barnett and Kevin Cornell (5 stars out of 5).
Hands-down the funniest book I have read in a long while. I can't imagine a better book to read aloud to children. Though the title suggests that it's time to count the monkeys, a cast of unexpected and ridiculous groupings follow, each sending the one before on its way. King cobras, mongooses (or is in
mongeese
?), sweet old beekeepers. The text beckons readers to interact in different ways each time, hoping to rid the book of it's unwanted guests so that the reader can finally count the monkeys.