(The following was adapted/updated from my BES Graphic Novel Nominees post from March 17, 2013)
It's time to celebrate year two!
The nominees in the graphic novel category of the Maryland Black-Eyed Susan (BES) Award were just announced! Voting will soon be closed for this year's nominees and our Maryland students will soon select the first recipient of our BES Graphic Novel Award for grades 4-6!
As the committee chair for the BES Graphic Novel Award, I again struggle to articulate how proud I am of the nominees our committee members selected and how privileged I am to have worked with such a great group of teacher librarians in selecting these titles.
We selected 10 graphic novels published within the past three years (2011, 2012, and 2013) that we felt were outstanding titles for students in grades 4-6. These are graphic novels we also consider to be must-haves for library collections and titles we feel will quickly earn the hearts of students and teachers alike. They represent a variety of genres including action/adventure, science fiction, nonfiction, and memoir. But more importantly, there are a testament to the great strength graphic novels possess in storytelling. We hope you and your students enjoy these titles as much as we do!
The

2014-2015 BES Graphic Novel Award Grades 4-6 Nominees

are:
SMASH: Book 1, Trial by Fire by Chris A. Bolton and Kyle Bolton
When Andrew's hero, Defender, dies, Andrew unexpectedly inherits his superpowers. Andrew must learn how to use his new powers while dealing with bullies, homework and fighting crime!
Nothing stands out about Ariol and that, perhaps, is what makes him so easy to identify with. His experiences at school are a mixed bag of embarrassment, pet crushes, and classroom high jinks. He's obsessed with THUNDER HORSE, he loves hanging out with his best friend Ramono, and he can't help but tell it like it is. Translated from the original French, these vignettes will resonate with anyone who has ever loved or loathed being in school for all the right reasons.
Nathan Hale's Hazardous Tales: Big Bad Ironclad! by Nathan Hale
In author Nathan Hale's Hazardous Tales series, Revolutionary War patriot Nathan Hale recounts historical episodes that he learned after being swallowed by a giant history book in One Dead Spy. Joined once again by the Hangman and a British officer, in this outing, Hale narrates the tale of the ironclad ships of the Civil War. In this tale we learn about the ironclad Monitor and Merrimack, and meet President Lincoln and other civil war figures including "Lincoln's Commando," Will Cushing, Swedish engineer John Ericsson, Lincoln's Secretary of the Navy, Gideon Welles, and Jefferson Davis' Secretary of the Navy, Stephen Mallory. The illustrations, colored in shades of blue and grey, bring the naval battles of the Civil War to life. The book includes biographic information about the major characters, a timeline of Will Cushing's Civil War, and a sketched bibliography.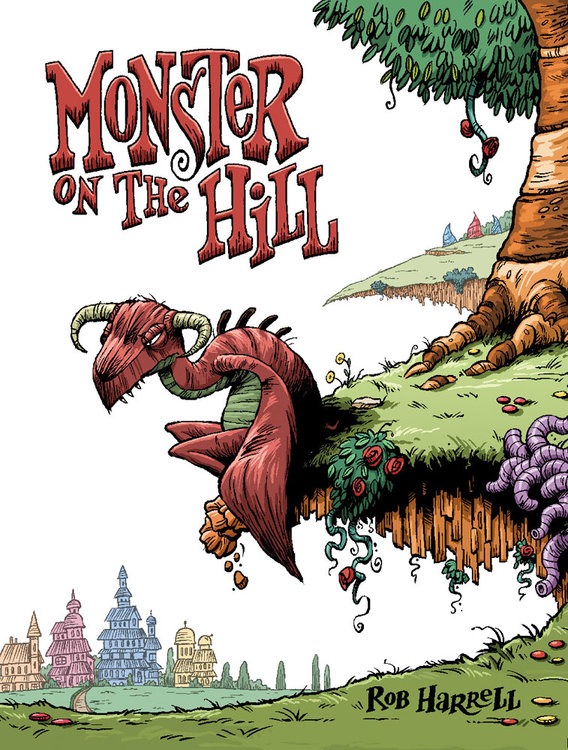 Monster on the Hill by Rob Harrell
In this alternate-world historical graphic novel, every town has its own monster- a monster that provides the town with revenue, protection and the occasional terrorizing rampage. Which leaves the town of Stoker-on-Avon in a bit of a bind since their monster is a moaning mess, prompting town officials to send their local mad scientist on a mission to fix the monster.
Rob Harrell
(
@

HarrellRob
)
lives in Austin, TX
. Visit RobHarrell.com
for more info.
Explorer: The Mystery Boxes edited by Kazu Kibuishi
The seven stories in this anthology all share a common thread: each contains a mystery box that plays a central role in the story's plot. From menacing clay doll in Under the Floorboards to seeing the world through the eyes of a hungry forest spirit in The Butter Thief, this collection of tales edited by the creator of the popular Amulet series is equal parts mystery, adventure, and wonder.
Kazu Kibuishi
(
@B

oltCity
)
lives in California
. Visit BoltCity.com for more info.
Mal and Chad: The Biggest, Bestest Time Ever! by Stephen McCranie
Mal is a misunderstood genius who, because of his love for learning and inventing, finds himself on some pretty amazing adventures! One of his endearing characteristics is the ability to see the form and function of things a little bit differently. We can begin to share his love of science by helping students discover how things work and how a really cool rocket might be hiding in a simple pencil!
Stephen McCranie
(
@

StephenMcCranie
)
lives in Albequerque, NM
. Visit MalandChad.com for more info.
Missile Mouse: Rescue on Tankium3 by Jake Parker
Missile Mouse, an agent of the Galactic Security Agency is sent on an assignment to Tankium3 to investigate the situation on the planet after one of the residents turns up in the capital under the influence of a mind control device. Much to his dismay, he must rely on a team of security robots to assist him in his quest.
Jake Parker
(
@

MrJakeParker
)
live in Utah
. Visit MrJakeParker.com for more info.
Bluffton by Matt Phelan
The year is 1908 in Muskegan, Michigan and young Henry is delighted with the vaudeville troupe that has come to summer in the nearby resort town of Bluffton. In particular, he is drawn to a boy his own age named Buster Keaton, a star of the stage as the "human mop" who can seemingly take any fall and not get hurt. As the two become friends over several summers, Henry longs to be a performer like Buster while Buster longs for Henry's life of normalcy. As Henry and Buster come of age they discover that more than the changing seasons can cause a rift in their friendship. Phelan peers into the past to offer a rare look at the childhood of Buster Keaton including the controversy over child labor and child abuse that surrounded the family act. The strong sense of the era is captured in vivid color and diverse linework with an honest nostalgia in this work of historical fiction.
Matt Phelan
(
@

MattPhelanDraws
)
lives in Pennsylvania
. Visit MattPhelan.com for more info.
Cat's Cradle: Book 1, The Golden Twine by Jo Rioux
Suri is a character full of spunk and mischief- with just the right mix for becoming a monster tamer! She not only believes the seven elements of fantasy- magic, otherworlds, universal themes, heroism, special character types, talking animals, and fantastic objects- exist, she lives them. After discussing fantasy motifs and giving examples from familiar middle school literature, students can draw mind maps of the elements they find in Cat's Cradle: The Golden Twine.
Jo Rioux
lives in Ottowa, Canada
. Visit JoRioux.com for more info.
Astronaut Academy: Zero Gravity by Dave Roman
Hakata Soy isn't your average kid. He's an ex-super spy and space hero who just wants to settle down to a normal kid's life at Astronaut Academy, but being a student there proves to be anything but simple. He doesn't get along with his new roommate or the popular kids at school, and worst of all his mysterious past keeps catching up with him including a robot doppelganger. Will the friendly faculty, new allies, and bunnies help Hakata adjust to academy life? Jam-packed with humor and homage to games and graphic literature, follow Hakata on his quest for a fresh start amidst vignettes featuring a uniquely wild cast of characters that reflect a wide diversity of readers.
Dave Roman (
@Y

aytime
)
lives in California
. Visit Yaytime.com for more info.
- - - - - - - - - - - - - - - - - - - - - - - - - - - - - - - - - - - - - - - - - - - -
(The following was adapted/updated from my Picture Book Nominees post from March 14, 2012)
State book awards are as unique as the state awarding them, as is the process for selecting the titles. The Black-Eyed Susan Award has been given to authors each year since 1992 and the award recognizes outstanding literature for children in the categories of Picture Book, Grades 4-6, Middle School, and High School. Book nominees are selected in each category by committees of active and retired school librarians from throughout the state. The nominees are announced in March for the following year. Winners are student-selected in April of the following school year.
Announcing the nominees now gives us a chance to familiarize ourselves with the books, start planning lessons and activities for the following school year, and earmark money from our book budgets to purchase the nominated titles.
Personally, I really like scouring the list of nominees to see if an author of a nominated book could visit our school in person or virtually via Skype.
Having said that, I want to share a resource with you I created to help promote the nominated books and save time finding information on author visits for our nominees.
Visit my BES Graphic Novel Author Visits 2014-2015 sqworl for links to the author's school visit information (where available). I've noted where the authors travel from in case it helps you plan your author visit more easily. (I know travel expenses can sometimes make or break our school's decision, but you can always explore alternate means of funding such as grant writing and fundraising. Some authors will even Skype for a 15-minute session for FREE!)